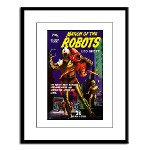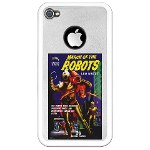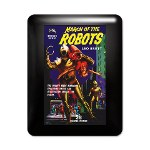 From the Back Cover

The East feared the West. The West feared the East. The Kremlin and the Pentagon snarled at each other in the monotonous soul destroying cold war that had dragged since the end of the 39-45 conflict.
But it was the very fact of the Cold War that was to prove a vital turning point in the ghastly history of human conflict. Man was prepared to fight fellow man . . . . but the menace came from Outer Space.
The Robots were marching. Metal men spread havoc and destruction across the fair green fields of earth until America and Russia settled their differences and turned in a concerted effort against the ghastly invaders.
But the alien attackers were armed with technological masterpieces, scientific marvels . . . . what hope had the puny weapons of man against such terrors?
But flesh and blood are stronger than steel in some circumstances.
There are times when a brain can defeat a computor
There are circumstances in which courage is worth more than technology. Men had to defeat the Metal Monsters or watch their planet die.
(British, Badger Books SF-53, 1961)